Products
Our turnkey inspection systems reliably find errors in product packaging, labeling or coding and also detect problems such as seal or cap integrity issues. Each of our Products is based on proven technology and many successful deployments in the field. Be sure to have a look at the Custom Solutions page for other options.
Turnkey  Process and Product Inspection Systems
 SureLabel inspects labels on all types and shapes of containers that are oriented at the point of inspection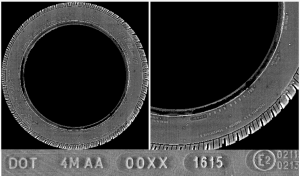 VAIA DOT Code Reading System
Reliable, high accuracy system that reads tire DOT and DOT date codes at high speed on randomly oriented, randomly sized tires. Meets the most demanding requirements of tire logistics or manufacturing facilities.
A flexible and feature rich software platform suited to serve most custom projects from high precision metrology to unique packaging verification
CircumSpect was engineered to provide a complete 360° graphical inspection for cylindrical containers.
The TamperProof system verifies that tamper-evident bands or caps are properly installed, are not skewed, and are properly torqued.
CodeSure ensures that ink-jet printed dot matrix codes typically printed on cans, bottles, or other food containers are present, legible, and correct
Vision Guard is a pre-configured General User Interface designed to manage multiple Cognex In-Sight vision sensors.